Today mid-day I ran into my buddy Walt who I had been meaning to climb with for some time and asked him when were going to get out climbing?

"I've got my gear in my car," he replied to which I quickly followed, "And so do I".
With the mid day temperatures in the upper 60's in Kamas, there was no better time than the present. We headed up the Mirror Lake Highway and passed "The Recess" which is a spot at mile marker 14. It's a fantastic little grotto of a climbing area but with the recent snow I figured it would be wet and damp so we drove on.
The area I had in mind to head to was the Jax Cliff. It's a west facing wall at mile marker 20 which requires a river crossing and a steep scamper up a boulder field.

Neither of us had been there so we were anxious to check out something new.
With the low water we didn't have to head up stream like the guidebook says but rather hopped boulders across the stream right at mile marker 20 where we parked.
Then up the other side of the stream gully to a flat we saw a cairn. We should have turned there. The book said go down stream 300 yards and then head up hill. We eventually figured it out and after a scramble found the crag.
The rock at Jax Cliff is beautiful and the views were just as good. With the leaves on the aspens mostly gone and the warm autumn sun I knew we had scored.
Although there are some trad offerings here we stuck to clipping bolts for today. We warmed upon Jax Rabbit (5.8 two star) which had some nice holds and fun moves. Next we grabbed New Jax City (5.9 one star) which has a bouldery start to a ledge where the real climbing begins and continues with cruising moves.
Lastly we jumped over to Jax in the Box (5.10b two star)

which is all fingers with no real resting spot, particularly at the chains where the slopers got the best of me. After a couple of pumpy attempts we warmed down on Jax Rabbit again and called it a day.
Hiking down the sun was beginning to set behind the mountains and Walt snapped the photo on the header of the site as I left the crag. There's nothing like having a crag to yourself when the weather is perfect.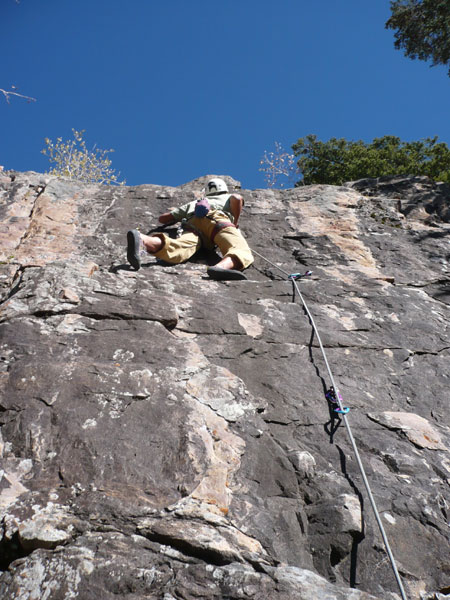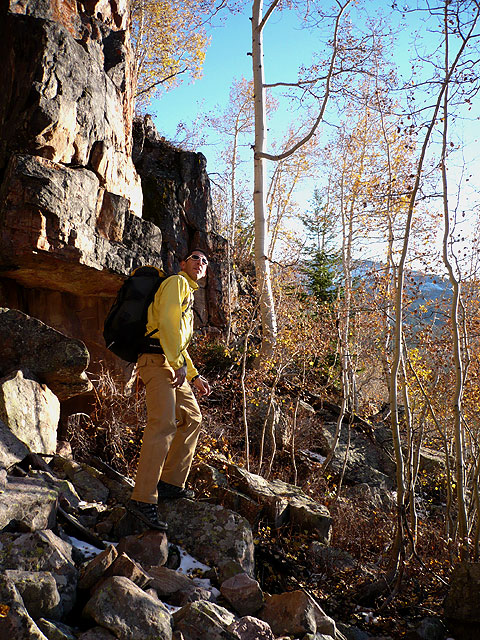 Leave a Reply
You must be logged in to post a comment.