My friend and former co-worker Marit pinged me today asking about how I did in Lotoja.
Lotoja?  Well, despite all the mayhem that was my life this summer and the lack of training that followed, I managed to shave an 1:01 off my time from last year.  That's one HOUR and one minute!  HOLLA!  Yea, pretty stoked on that.
So here is a Blow by Blow shortish recap of Lotoja 2008.
Started out at a semi slow pace but the yo-yo of the back of the peleton and the sub 20 mph speed was unbearable so the group of us with PROBAR jerseys moved to the front and pulled most of the way to Preston.
It was faster than I wanted but safer than the back.
Just shy of Preston there is a little rise that split the pack and my two buddies that I agreed to stay with were slowing up.  Frankly, I didn't think my day would be more more than a leisurely ride so I sat up, rode without hands and ate breakfast until the feed zone when they caught up.  We took WAY too much time here taking off leg warmers, eating, general time kill.
Starting out from Preston were held a good pace as I was pulling most of the time through the hills and rollers.  As we started the big climb of Strawberry I surged forward to stop for a pee break and as I did so a guy came up on my side and in front of me.  I noticed he had an ONCE jersey from Spain so I hung on his wheel.
After a minute or two he looks back RIGHT as I was getting ready to pull over to take that needed break and he says, "Kendall? It's Chad Eberhardt!"  I was like, "Chad?!?".  Sure enough, a guy that I served with in Spain on my mission 16 years ago.  Haven't seen him since Spain.
After that we were like a couple of old women out for a lazy afternoon ride (no offense to my women readers or women in general) just chatting away, pedaling pretty solid up the climb, oblivious to the riders we were passing. In fact, a gal looked back as we were passing her and said, 'Kinda chatty back there eh?"
After catching up about families, wives, work, old buddies from the mission and more, we were at the water station just before the Strawberry summit.  So I figured I'd just hang with him until Montpelier and meet my support (the wife of one of the guys I was riding with) there.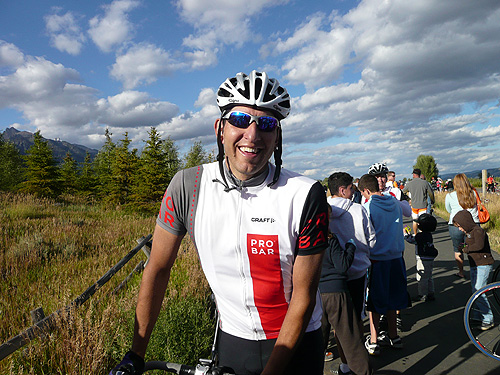 Long story short, she wasn't there and so I ate some of Chad's food and we jammed the entire way.  He rode a 10:06 last year to place in his age group but we were on pace for something like a sub 11 and so we pushed hard from group to group – joining up with a group, pulling it, working a few pulls and then pushing on to bridge to the next group.  It was brilliant.
The last leg we hung with another buddy of mine and his friend who we rand into along the way and the 4 of us pounded most of the last leg.
Just before the finish as you enter Jackson there's a little hill and it ate up all my energy.  I fell off the back and couldn't catch the now group of 20 or so.
After a little more than a mile solo I thought to myself, "Please Chad, come back and give me a wheel."  Lo and behold, I looked up to see a guy sit up from the group about 1/4 mile ahead of me.  Chad came back, pulled me until the turn in Wilson and then we pushed hard together to the end.
Finishing time – 10:44.  1 minute faster than my pre-season goal for Lotoja.
I'm already trying to figure out how to break 10:15….
One Response to "Lotoja – Blow by Blow"
Seth Wallace Says:
October 30th, 2008 at 3:46 pm

Kendall,

Came across your site through feedthehabit and Bluehouse. I enjoy your posts. Just curious as to what group you rode in. I finished in around the same time and spent a lot of time with a few guys wearing your same jersey…I think. It was all a bit hazey! I rode in Biker's Edge gear and was in Cit Cat 5 1500s. I work in PC and will be looking for some PC riding partners next spring to train for LOTOJA again…That 10 hour mark is luring me on!
Leave a Reply
You must be logged in to post a comment.